Mission Statement
The mission of the Applegate Companies is to pursue the Golden Rule, "Do unto others as you would have them do unto you," with creativity and profitability in the realm in which we work.

To do so fulfills God's original calling to man – that of engaging in productive labor, and satisfies the Great Commandment to "Love your neighbor as you love yourself."

All ventures with vendors and customers, in researching, manufacturing and selling products flow from our commitment to obey this command of Jesus in an attitude of submissive stewardship.

Therefore, our mission centers on pursuing value creation opportunities for our company and employees, for our vendors and customers; by all just and lawful means, to procure, preserve and further the wealth and position, property and status of others, as well as our own, to the end of bringing glory to Christ the King as we co-labor with Him in the redemptive endeavor of subduing the earth.
The Applegate Story (Our History)
Established in 1952 as a heating and cooling equipment contractor, Aaron Applegate's small company (Applegate Heating) guaranteed that its electric-resistance heating system would reduce energy bills for the homeowner provided that they had "good" insulation.

Unfortunately, several individuals were collecting on their guarantee - much to the detriment of Applegate's financial standing.

Initial research, in efforts to change this pattern, led Aaron Applegate to a utility company in Indiana successfully promoting electric resistance heating and guaranteeing their work. They credited their success to the performance of cellulose insulation. After intensive research on insulation materials and methods, Aaron was convinced of the effectiveness and superiority of cellulose as an insulation material.
Because of the need for insulation contractors who understood heat transfer concepts and provided quality insulation, Applegate Heating became Applegate Heating and Insulation, founding the Applegate name as a moniker for quality work and service.

By the 70's, Aaron had developed Michigan into a profitable region for cellulose insulation, but when his supplier of cellulose (Oren) eliminated all of their sales representatives, Aaron, along with his son and partner Terry Applegate, felt the push to develop their cellulose insulation product.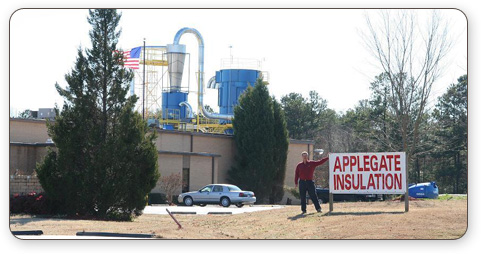 By the end of 1978, Applegate Insulation Manufacturing was supplying several insulation contractors with premium-quality cellulose insulation. The next few years brought the Okemos manufacturing facility to capacity. So much business was being done, in fact, that in 1987 Applegate Heating and Insulation was sold to a group of five managing employees, leaving the production of insulation in Aaron and Terry's experienced hands. And in 1995, Applegate built a new, larger, state-of-the-art plant in Webberville, MI.

The last 15 years have brought 6 additional state-of-the-art manufacturing facilities. In 2008 Applegate Insulation began celebrating over 30 wonderful years of partnering with contractors!


Applegate R Foam | America's High-Technology Superinsulation Manufacturer | © 1978- | Privacy Policy

"For every house is built by someone, but the builder of all things is God." Hebrews 3:4